Lose extra pounds with FastFill!
FastFill will make any diet more effective. And HealthyHCG is the only company that offers this unique hunger-reducing aid for the HCG diet.
FastFill works naturally with your body. Just take it with a glass of water between meals...and hunger pangs fade away. Take FastFill before meals, and you'll feel like you're eating normally—but you'll be eating less.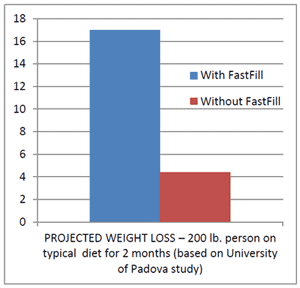 FastFill makes any diet more effective
University and hospital studies show that the active ingredient in FastFill can improve the results of any diet.
The difference is astounding. In a study done at the University of Padova in Italy, the group that took a supplement containing FastFill's active ingredient
lost 2.8 times more weight
than the group that did the same diet without it. Several more clinical studies show similar results: the amazing natural ingredient in FastFill will help you lose fat faster, feel less hunger, and stick to your diet.
Add FastFill to your current routine and watch your results jump.
FastFill in the HCG diet
FastFill complies with the HCG diet protocol developed by Dr. Simeons—and it can enhance every phase of the diet.
During the 500 calorie
Core Phase
:
Most people don't experience severe hunger on the HCG diet, but it can happen. Take FastFill with meals or between meals to help avoid hunger. The natural dietary fiber in FastFill helps prevent constipation that can sometimes occur in this phase of the diet.
During the
Stabilization Phase
:
Take FastFill before meals to help prevent overeating while you're ramping up your calorie intake. Take between meals as needed to help control hunger.
During the
Maintenance Phase
:
Take FastFill before meals to help prevent overeating. FastFill will slow down the absorption of carbs that you're adding to your diet. This will help prevent blood-sugar spikes and crashes and minimize carb cravings. Take FastFill between meals as needed to help control hunger.
Long-term weight loss PLUS natural health benefits
You probably know all too well that that it's far easier to gain pounds than lose them. High-calorie food is lurking everywhere, waiting to trip you up.
But FastFill is on your side. It works anytime—even on a normal diet. You can use it to maintain your target weight over the long term with no undesirable side effects.
In fact, its effects go beyond weight loss to
actively improve
your overall health.
Medical studies from 11 universities and hospitals in the U.S., Canada, and Italy have documented the health benefits of the unique dietary fiber that is FastFill's active ingredient.
Improves blood sugar response—reduces spikes and crashes. Heart-healthy: decreases blood pressure, cholesterol, and triglyceride levels. Delays and decreases hunger. Increases ability to adhere to healthy diets.
With these health benefits, plus the ability to help you stick to your weight loss program AND the ability to help you maintain your target weight, there's no reason not to try FastFill.
How does it work?
Directions for use
To reduce hunger between meals, take three FastFill capsules with at least one full glass (8 oz.) of water. To increase fullness and prevent overeating, take three FastFill capsules with at least one full glass (8 oz.) of water 30 minutes before mealtime.
Now that you've seen the weight-loss benefits of FastFill, you may be wondering what is in it and how it works.
Ingredients
FastFill is all natural: no drugs, stimulants, or artificial chemicals. The active ingredient is a dietary fiber that comes from the root of the konjac plant, which has been used in traditional Asian foods for centuries.
How it works
All dietary fiber absorbs water and expands after you eat it; this is one reason why eating healthy amounts of fiber helps maintain a healthy body weight. FastFill does the same sort of thing—and does it much better.
When combined with water, the natural dietary fiber in FastFill expands to 17 times its original size. It does this by absorbing up to 100 times its own weight in water (which is why we emphasize drinking plenty of water when you use it). This is a key part of its extraordinary ability to alleviate hunger and reduce overeating.
FastFill adds bulk without adding calories—so you feel full when you've actually eaten less.
FastFill is slow to digest, which leads to several beneficial effects. Your stomach stays full for longer, so you're more satisfied after you eat. FastFill also slows the body's absorption of simple carbohydrates, so that you get a long, sustained energy release instead of spikes, crashes, and cravings.
Not only that, FastFill slows the digestion of any other foods you eat with it—so feelings of hunger are reduced and delayed.
Are there any side effects?
FastFill's side effects are generally positive. Because it is mostly comprised of dietary fiber, it has a mild laxative effect, which makes it effective at preventing constipation. If your digestive system is sensitive or if your usual diet is very low in fiber, you may want to start by taking FastFill only once per day and increasing the dosage slowly over three or four days to avoid digestive discomfort. As with any product high in dietary fiber, taking more than the recommended dosage may cause digestive upset (gas, bloating, etc).
Because FastFill absorbs water, it is important to drink plenty of water—at least 8 ounces—when you use it. This will help prevent potential digestive discomfort and will make FastFill more effective.
Why we recommend FastFill
Lose weight faster on any diet.
HCG diet compliant, and can be used in all phases of the HCG diet.
Works anytime—even on a normal diet.
Helps you avoid unnecessary calories and maintain your weight loss.
Health benefits that actually go beyond weight loss: stable blood sugar levels, lower cholesterol, digestive health.
You can struggle with weight loss...or you can take FastFill and make it all easier.
FastFill is your secret weapon.